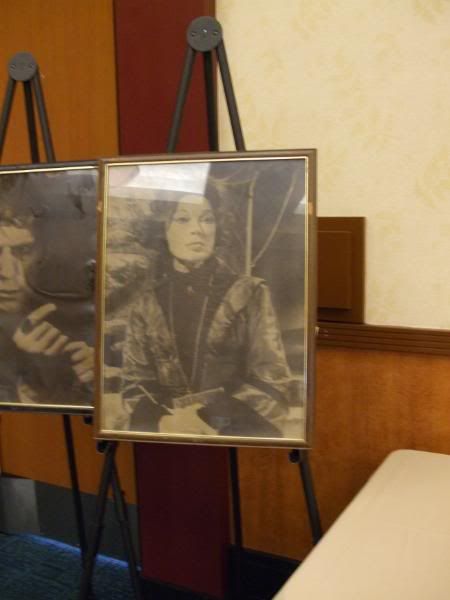 The late Grayson Hall.
I just got back from the second day of the Dark Shadows Festival. It's being held at the Burbank Marriot, right across from the Bob Hope Airport. I just love attending and hearing all the stories from first generation fans (fans who watched the show as it aired in 1966). I left around noon to arrive at the Fest around 1:00. All the stars were going to be there around 3 so I figured to give myself some cushioning and time to get settled. [Plus, since I saw "The Dark Knight" on Thurs. night/Friday morning, I was beat and wanted to sleep in.]
I've been to that Marriot before so I knew my way around. I got my registration and banquet tickets. I picked up a couple of photos from the Vendor room to have ready for the actors to sign. Then I walked into the main room where Bob Cobert, the show's music composer, was holding court. He was telling the story of how he created the haunting theme that no one has matched for any show. The crowd laughed and cheered. Poor Bob had to be cut off when he was speaking because he took up all his time. I was holding a space on the wall, but found a seat once people got up to stretch or walk around.
Robert Cobert.
I sat with a nice couple and a lady who like clock work, asked, "How'd you get into the show? You look a little young." I smiled and explained how my parents, mostly my Pop, introduced me to the show. We chatted about the show, other festivals we've attended, where we were from.
Jim Pierson, the chairman of the Fest, then came out and told us David Selby will be on stage in a couple minutes. Well, he lied. I was speaking to the couple when all of us jumped.
"I'm Quentin Collins, folks! How's every buddy doin'?"
David Selby walked in from the back of the crowd, blue eyes shinning, a very Quentin swagger to his walk. His voice boomed over the crowd. After the initial shock, the crowd was on its feet. He threw confetti and shook hands to people on the edges. He jumped onto the stage (almost literally) and began to speak about his book. He's a very restless guy. He paced back and forth throughout his whole talk and worked the crowd like the pro he is. His energy was just amazing.
Ok, so it is already a half past midnight, so I'm going to continue this later on tonight or tomorrow. Here's my precious pictures though that explain why I'm grinning like a fool.
First picture: Yours truly and David Selby.
2nd: Chris Pennock and I
3rd: It's John Karlen!!